ZEN PAINTINGS
BELINDA SWEET - DANIELLE WILLIAMS


PAINTINGS BY JAPANESE ZEN MASTERS
17TH CENTURY TO THE PRESENT

ORIGINAL WORKS OF ART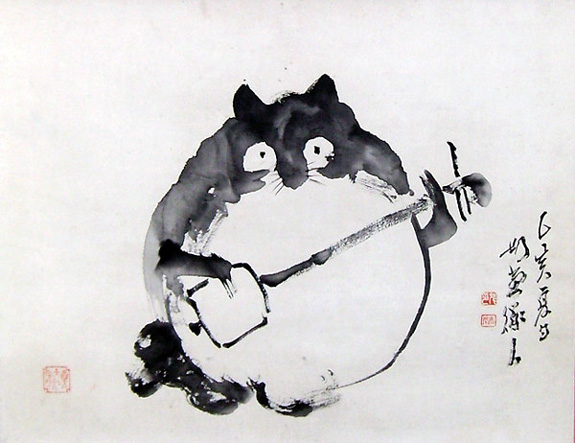 Jodo Shigeru (b. 1864)
"Tanuki"
SOLD

Ink on paper
Size: 21 x 16 1/4 (22 3/8 x 48 1/4)
Mounting: Red Silk, gray backing
Click here to view complete mounting

Translation:
Tanuki Geisha
Dated: Summer, Year of the Wood Boar, 1935
(signed) Jodo Shigeru, age 71
This is an amusing portrait of a tanuki, a pudgy little animal that is a kind of Japanese raccoon. In folklore, tanuki are mischievous creatures that like to play tricks on human beings. Here, however, tanuki appears utterly charming as a geisha strumming her shamisen.

This painting differs from everything else in the catalogue. Although not brushed by a Zen monk, this delightful Tanuki has many characteristics of Zen art, humor and simplicity foremost among them. Also, this tanuki's belly is an enso—a Zen circle—full and plump.

This painting seems to suggest that life is to be enjoyed fully, even though all pleasures are fleeting.
For More Information, Contact Us At: zenart@peoplepc.com