ZEN PAINTINGS
BELINDA SWEET - DANIELLE WILLIAMS


PAINTINGS BY JAPANESE ZEN MASTERS
17TH CENTURY TO THE PRESENT

ORIGINAL WORKS OF ART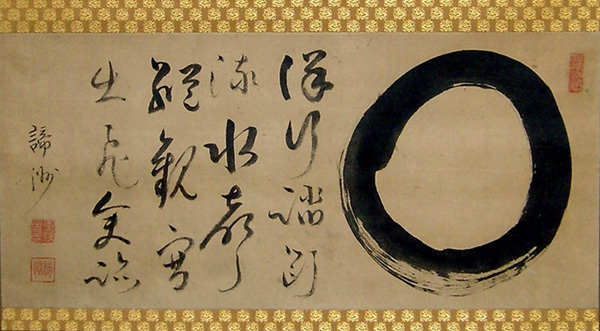 Taiju Shishin (1774–1849)
"Enso"
Ink on paper
Size: 22 x 10 ĺ inches (24 x 49 Ĺ overall)
Mounting: Brown and beige raw silks
Click here to view complete mounting

Translation:
Serenely wade the stream and become one
with the sound of flowing water;
leisurely gaze and track the flight
of soaring birds.
Taiju
The inscription is part of an accompanying verse from Case Six of the Hekiganroku, Ummonís "Every day is a good day" koan. Thus the enso here symbolizes the perfection and completion of each and every day, as well as the necessity of quieting down to become one with nature.

The brushstrokes are bright and lucid. This fine enso painting is an intriguing and attractive Zenga.

Taiju was abbot of Tofuku-ji, one of the major Rinzai Zen temples in Kyoto. Taiju brushed many pieces of Zen art, but enso by him are comparatively rare.
For Price Information, Please Contact Us At: zenart@peoplepc.com